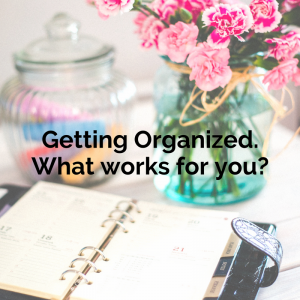 A few months ago I quit my amazing job and moved with my husband to a new state and new city. With this new adventure I'm re-learning how I like to work. It's been a while since I had to make my own schedule. I'm used to working at home, but I had a paid position requiring me to work some normal hours.
For the past month I've been creating my own schedule while establishing a work network and looking for a job in Portland. It's not as easy as it sounds. So, how do I cope with a floating schedule?
I make goals, I use as many tools as I can, and I track it all. My methods are a strange conglomeration of technology and old school paper. So, here's some tips …
Find Your Place
I learned a long time ago I can't work from my couch. I get distracted by the giant TV or whatever book I'm reading. I must have a dedicated work space. It's preferably a desk with appropriate ergonomic set up (chair, monitor, keyboard, etc). But, I'm also happy knowing I can take over the kitchen table. I need a place to go which is designated my work space. By being in that space I know it's time to buckle in and get something done. Right now I'm writing from my kitchen table. It's not ideal, but since my husband works from home he gets the desk.
Set Some Goals
I started my job search earlier this month after taking a month off to take care of my step-children. I realized I needed to set myself some attainable goals each week. I had done that in my head, but without external deadlines I found it important to write them down. I bought a PAPER planner, and in the first week of August I wrote down three easy goals. It's the end of August, now I'm deciding the best way to evaluate and track my results.
Use Easy Organization Tools
I use a strange combination of digital and old school paper. I like paper because I tend to remember things better when I write them down. Also, gives me something to touch and refer to later. My husband thinks it's crazy and wants it all on a device. No paper for the husband. So, I also use a shared Google Calendar and a shared Evernote Notebook. The calendar keeps all our life stuff in one place, events, travel, appointments, game days, etc. And Evernote lets us both contribute to our lists of errands, chores, shopping, etc. We can both add info to Google or Evernote so we're both responsible for upcoming items and/or shopping.
My DIGITAL Tool Recommendations
Google Calendar: Shared with my husband. Keeps us both up to date for regularly scheduled household stuff, doctors appointments, game nights, fun events, etc. The Google Calendar App is good, but it also integrates easily with the native Apple calendar app for iOS and Mac.
Gmail: Is there any other email provider? It's easy and it works with everything. I have the app on all my Apple devices. Use the contacts area of gmail. You can integrate it with your contacts on your Apple device as well.
Cloud Storage: I have a bad combination of Google Drive and Apple iCloud Drive. iCloud works really well with my Mac, and Google Drive is great for storage directly from Gmail. I also can actually create documents SUPER easy in Google Drive.
Evernote: Shared notes. My husband and I share a notebook for day-to-day household information. And, I keep a shared notebook for my cookbook. This way I can access all my favorites as long as I have an internet connection. Recipes wherever I am.
Actually USE Your Tools
It's taken some time but I have a system which works for me and my family. It's probably not the simplest, but it seems to work for us. The key is ACTUALLY using the tools you set up. If you like a paper planner, write everything down each week, find a place at home (and work) to leave it open so you can easily refer back to it. The key is going back to whatever tools you use. They are only helpful if you USE them the way you intend. I go to the grocery store and open the Evernote shopping list. I may know what I want, but my husband may have added his wants as well. This way neither one of us forget something.
So, how do you keep yourself organized?